About the Band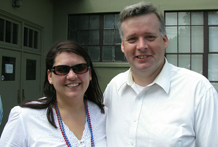 Some of us played instruments in school. Others took up an instrument as adults and are playing in a group setting for the first time. Some of us are still in school and just want more opportunities to perform. We come from all walks of life with all levels of skills, and we have diverse musical backgrounds in jazz, classical, rock, and any other type of music you can imagine. We are your friends, neighbors, bosses, employees, parents and children. What brings us together is that we all want the same thing -- the opportunity to make our community a better place in which to live by providing two things:
A place where musicians can join together to perform music as a group.
Community cultural enrichment and musical enjoyment through public performance.
Contributions welcome
The Lynnwood Community Band is a 501(c)(3) non-profit organization. Because our goal is to attract as many musicians as possible, we wish to allow our musicians/members to participate and perform without having to pay dues. Therefore, all of our funding is derived from private donations. We have a great need for donors who can help us purchase necessities like music and equipment. If you would like to donate, contact Dale Light at lynnwoodcommunityband@msn.com or send a check made payable to the Lynnwood Community Band, 6608 191st Street SW, Lynnwood, WA 98036.